Yap Boh Tiong
Chairman of Mileage Group
Boh Tiong has more than 40 years experience in the mass communications field encompassing journalism, public relations, advertising and marketing.
Before starting Mileage Communications Pte Ltd, he worked with a number of leading Singapore companies in senior public relations and marketing positions. These included The Straits Times (Journalist), Singapore Airlines (Marketing Executive and Public Relations Officer), United Overseas Bank (Vice President and Head of the Public Relations and Advertising Department) and Inchcape Berhad (Group Corporate Affairs Manager).
Some of the clients he had worked with include Marriott International, Rabobank, Senoko Energy, Baxter Healthcare, Teekay Shipping, Sri Lankan Airlines, World Gold Council, Fujitsu Asia Pte Ltd, Samsung Electronics, Cathay Pacific, Merck Sharp & Dohme, Singapore Sports Council and A.W. Faber-Castell.
Mileage Communications has also a solid track record in Crisis Management. Boh Tiong has personally handled a number of high profile incidents, including the Raffles Town Club saga, the phenol spill in the Straits of Johor (which poisoned the fish farms), the Slim 10 saga, AIA Critical Year Option, Nicoll Highway collapse and the hotel bombings in Islamabad and Jakarta.
Outside of his work, Boh Tiong is active in the Singapore community. He was the President of the Institute of Public Relations of Singapore (IPRS) from 1985 to 1993 and was a member of the International Public Relations Association (IPRA). For his outstanding work for the Institute and the industry, he was conferred the title of Fellow by IPRS in 1994. In February 2000, he was named PR Professional of the Year by the Institute, in recognition of his contributions to the PR industry. In 2010, he was recognised as one of the honorees of the Spirit of Enterprise Awards, and in 2014 he was named one of the winners in the Established Entrepreneur category of the Entrepreneur of the Year Award organised by the Association of Small and Medium Enterprise (ASME).
He has been a public relations advisor to the Singapore Police Force since 1981 until 2013. For his contributions, he was commended by the Commissioner of Police in 1985.
He had also provided public relations advice and service to many organisations including the National Productivity Board (now SPRING Singapore), National Arts Council and the National Fire Prevention Council.
He is a sought-after lecturer and speaker on marketing communications and public relations. Over the years, he has sat on many advisory committees. These include the Ngee Ann Polytechnic Mass Communications Advisory Committee, the School of Business Advisory Committee of the Singapore Polytechnic, the Marketing Committee of the Singapore Symphonia Company and the National University of Singapore Public Relations Advisory Committee.
Boh Tiong has a Masters Degree in Social Science (Sociology) from the University of Singapore (now known as the National University of Singapore) and also holds a Diploma in Public Relations from the internationally regarded CAM Foundation in London.
PATSY PHAY
Executive Director of Mileage Group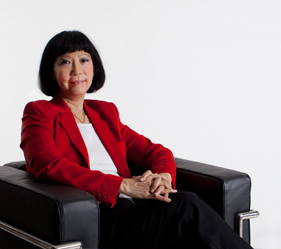 Patsy is the Executive Director at Mileage Communications Pte Ltd. She joined Mileage in 1996 and brought with her more than 19 years of banking experience with excellent knowledge of the local market as well as regional credits.
Prior to joining Mileage, Patsy worked as an Assistant Manager at the Regional Head Office Singapore of Deutsche Bank AG. Before joining Deutsche Bank AG, she was the Head of Credit Administration Department of the First National Bank of Chicago (now known as Bank One).
At Mileage, Patsy puts her past experience to good use servicing existing clients and helping Mileage in establishing a stronger presence in the financial industry. To this end, she has successfully helped Singapore as well as Hong Kong companies on their IPO road shows. She managed successfully the IPO launch for Global Tech (Holdings) Ltd, People's Food Holdings Ltd, Santak Holdings Ltd, TEE International Ltd, Top Global Ltd, TPA Strategic Holdings Ltd, TPV Technology Ltd, Fragrance Group Ltd, Sembawang Music Holdings Ltd, Heatec Jietong Holdings Ltd, Figtree Holdings, Sysma Holdings, Kori Holdings, and QT Vascular.
Some of the China and Hong Kong companies' IPO road shows successfully managed in Singapore were Bosswin Industries Ltd, CCID Consulting Co Ltd, Hopson Development Holdings Ltd, Milkyway Image Holdings Ltd, Wumart Stores, Inc., I.T Limited and China National Culture Group Ltd.
Patsy has also developed investor relations programmes for public listed companies such as Flairis Technology Corporation Ltd (has since merged with Beyonics), TPV Technology Ltd, Magnecomp International Limited (now known as Innotek Limited), TPA Strategic Holdings Ltd, Cityneon Holdings Ltd, Stratech Systems Limited, Sinwa Ltd, Heatec Jietong Holdings Ltd and Stamford Tyres. She also handled the communications programme for State Street Global Advisors (the world's largest institutional asset manager) since 2002, World Gold Council, Alliance Capital Management (Singapore) Ltd, Dun & Bradstreet (Singapore) Pte Ltd, Network For Electronic Transfers (Singapore) Pte Ltd (NETS) and Marriott International for South East Asia.
In the property sector, Patsy handled successfully the launches of Summerlea Green, Countryside 3 and Le Shantier by OCBC Properties Private Ltd and the Pacific Plaza Towers in the Philippines by First Pacific Davies (Singapore) Pte Ltd.
Given her broad experience in the corporate and financial sectors, Patsy has also developed a keen interest in the Information Technology industry. She developed the communications programmes for IT clients like Fujitsu Asia, JD Edwards (Singapore) Pte Ltd, Motorola Electronics Pte Ltd, NCR Asia Pacific Pte Ltd, NIIT Asia Pacific Pte Ltd, 3Com South Asia Pte Ltd and Samsung Asia Pte Ltd.
For the Healthcare/Pharmaceutical sector, Patsy has developed successfully PR programmes for Bausch & Lomb (S) Pte Ltd, Baxter Healthcare (Asia) Pte Ltd, Organon (M) Sdn Bhd, Novartis (Singapore) Pte Ltd, Rockeby biomed Ltd, Singapore Heart, Stroke & Cancer Centre, The Himalaya Drug Company Pte Ltd, Pan Malayan Pharmaceuticals Pte Ltd and Team GPA and QT Vascular Ltd.
As for crisis management, Patsy personally handled many shipping incidents. The notable ones include the sinking of car carrier, Hyundai 105, MV Tampa, where the captain rescued Afghan refugees in Australian waters and MaritimeMaisie, a chemical tanker that caught fire for 19 days after collision in Busan waters. For non-shipping crises, she handled the closure of Cosmic Insurance by the Monetary Authority of Singapore and Dynasty Travel's crisis communication after a tour coach packed with Singaporean tourists caught fire in a tunnel in New Zealand .
Patsy is currently overseeing all the business sectors of Mileage. They are Consumer/Lifestyle, Corporate Finance/Investor Relations, Information Technology, Healthcare/Biotech/Pharmaceutical, Shipping, Sports and Crisis Management.